It is a pleasure to have this opportunity to introduce you to our school and I hope you will find that the information is interesting and helpful in answering any questions you may have.
St White's Primary School is situated in the heart of the Forest of Dean, and includes pupils from 4 to 11 years old. We are a warm and welcoming School, very concerned with the welfare of our pupils as well as the academic standards they achieve. The staff endeavour to bring out the best in each child and have high expectations of pupils in terms of academic progress and behaviour.
Please do not hesitate to arrange a time to visit the school or telephone if there is anything you would like to ask us.
Matt Bishop
Chair of Governors
This term we value... honesty
Latest Parent School Calendar Events
Book Fair

09

Mar

2015

15:15 pm - 16:15 pm @ In the Hall

Remember to use your World Book Day tokens!

Book Fair

10

Mar

2015

15:15 pm - 16:15 pm @ In the Hall

Remember to use your World Book Day tokens!

Holly Class Activity Afternoon

11

Mar

2015

13:45 pm - 14:45 pm

Yr 6 Trip to Mitcheldean Primary School Daylight Theatre

11

Mar

2015

13:45 pm - 15:00 pm

Make Your Face Funny for Money Red Nose Day £1

13

Mar

2015

Children may come to school with decorated faces. Red noses will be on sale during the week.
St White's Primary School News
There is now a new Facebook page for the school. Please click here and like our page.
** The latest HMI Inspection Report is now available to view. Click here to download the report. ** You can also click the OFSTED logo to the left under the video to be taken directly to all of our recent OFSTED Inspection reports.
The book fair this year will be held after school in the hall, on Friday 6th, Monday 9th and Tuesday 10th March.
*** Please remember that if you wish to attend the OFSTED/HMI Update meeting on 18th March to let the school office know by Monday 9th March at the latest. If there are not enough people attending, the meeting will be cancelled. ***
New Links
If you check out our links page, you will see lots of links to websites that contain useful information on many topics, including E-Safety and the Department for Education.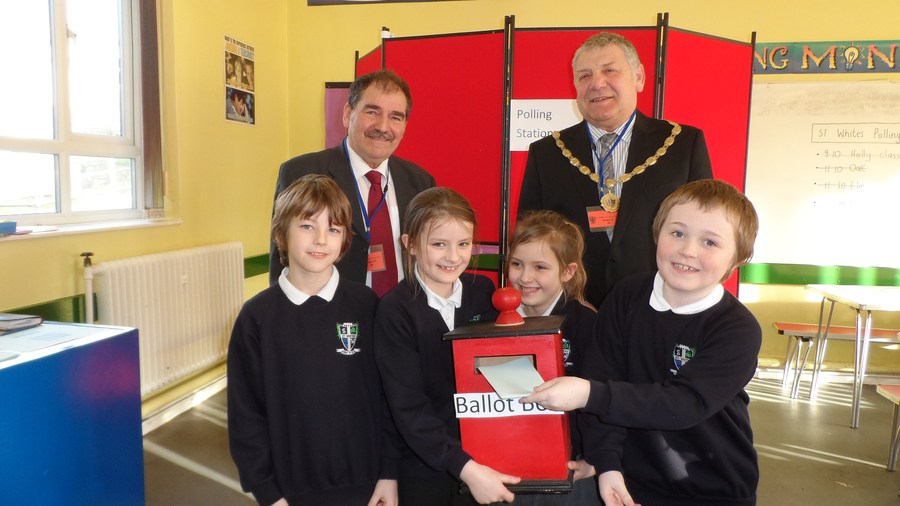 School Council elections were attended by Councillors Max Coborn and Graham Morgan on Wednesday 28th January.